2018 JEDI SUMMER CAMP
Welcome to our Jedi Summer Camp page. Our goal is to make learning basic self-defense, and meditation skills, character building exercises and games, while being educational, fun for kids.
No previous martial arts training is required. Camp is open to all kids ages 5-11 years old.
Chayon-Ryu, the natural way martial arts is a martial arts system founded by Grandmaster Kim Soo here in the United States in 1968. The Chayon-Ryu method utilizes natural body movements to teach the classical moves found in six Asian martial arts. For more about our full Chayon-Ryu Martial Arts for Life program, visit our dojang page.
Why is learning Chayon-Ryu like learning to be a Jedi Knight?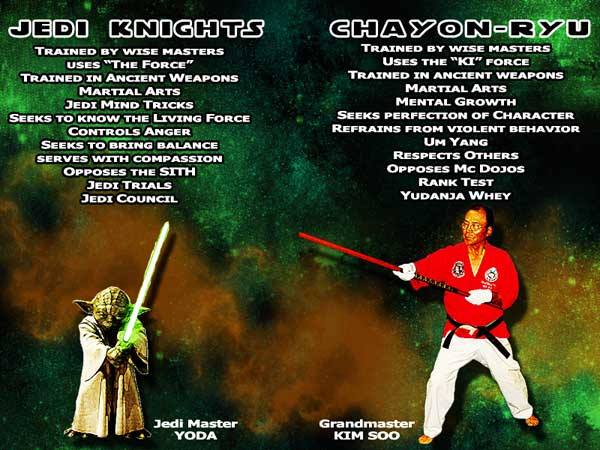 JEDI TRAINING- a crash course in the martial arts that Jedi might use when battling the forces of the dark side. Skills such as rolling and falling, body shifting and turning, blocking and striking, learning to focus inner power to achieve a technique or goal. All of the skills and techniques they will learn have real life applications in the way of character building and self-confidence. As with our martial arts program, instructors are certified self-defense teachers with years of experience.
ARTS & CRAFTS- Jedi campers will enjoy various craft projects such as making their own light saber (a safe foam training saber, for use in class), paper crafts that they can keep, and coloring pages that they can keep.
ACTIVITIES- Jedi campers will enjoy agility course races, skill toy play time, movies, story time, arts & crafts, and more!
SKILLS- body awareness, balance and coordination, focus and concentration, self-defense, self-confidence.
GAMES- Agility courses, sword battles, skills games, mental games and more!